Fancy Rats Team
Posts: 349
Joined: Wed Jul 06, 2011 5:22 pm
---
Isamu Rattery Based near Preston - Lancashire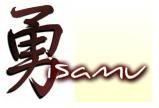 Breeding for healthy, friendly rats with the aim of improving lifespan with Lovecraft stud. I will mainly have top eared and Dumbo rats in agouti, black, mink and cinnamon with occasional essex flavours. The odd marked rat (mainly mis-marked Irish and dark phased pearl) does pop up too and there's a chance of Russian blue in the future. Our rats are known for there 'in your face' attitude, affectionate and active temperaments. Isamu is an NFRS registered rattery.
I travel to most rat shows in the north of england and down to Manchester regularly, homing can also normally be arranged from most shows around the North West and East of England and i will consider rat trains for the right home.
Please feel free to get in contact for a chat or advise as well as to discuss potential kitten homes.
http://isamu.weebly.com
---
Blairwitch stud
Golden Himalayan working towards Golden Siamese.
www.freewebs.com/lisa-blair/
Breeding for happy healthy rats based in Newcastle.
Will reply to every email.
Im a member of the NFRS, YRC and MRC so i travel quite a bit.
Blairwitch Stud
Breeding Golden Himalayan working towards Siamese. Mink and black in rex and smooth and sometimes dumbo
---